theatre for young public
ELEFANTINHO
In dreams, freedom flies with more wings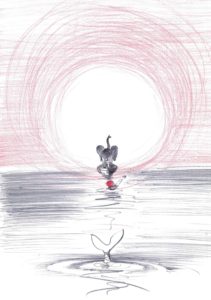 Freely adapted from the tale O Elephant of the Brazilian author Bartolomeu Campos de Quieros, Elefantinho is a theatre performance suitable both for adults and children. Through a playful and poetic balance of scenic languages such as shadow theatre, dance and movement research, singing, live music and storytelling both in English and Italian language, Elefantiho deals with the themes of self-confidence and the overcoming of the obstacles, that often are the result of our own fears.
Fears like those of Margherita, a young girl who doent sleep at night, after losing her friend Elefantinho, a small elephant whom she met one night in a dream and suddenly he decided to reach his size, forcing even Margherita to downsize her dream, not large enough to hold a real elephant.
The story is narrated by two clumsy pirates, Adam and Midi, also creatures of Margheritas dream, who shall help her to accept her fears and through a series of adventures, they will finally succeed to make her believe in dreams again and recognise their necessity in the understanding of reality.
Concept, dramaturgy, performance: Daniela Marcozzi, Christina Kyriazidi
Illustrations: Malgorzata Zmyslowska
Music: Luigi DeCicco
~~~~~~~~~~~~~~~~~~~~~~~~~~~~~~~~~~~~~~~~~~~~~~~~~~~~ ✿
MARIO
street character
Berlin Lacht festival 2011
August 2011, Alexanderplatz, Berlin
~~~~~~~~~~~~~~~~~~~~~~~~~~~~~~~~~~~~~~~~~~~~~~~~~~~~ ✿
MARIO & NETTA
performance for young public and open spaces
street intervention in KNOTS International Theatre Festival
January 2013, San Pedro, Bs.As. Argentina
✿ more info for theatre for young public: mario-netta.com 
~~~~~~~~~~~~~~~~~~~~~~~~~~~~~~~~~~~~~~~~~~~~~~~~~~~~ ✿
Le Petit Prince
The Little Prince
theatre workshop for children
in English / Spanish / French
The workshop explores the ideas of "The Little Prince" by Antoine de Saint-Exupéry, through story-telling, theatre games and dramatization of selected scenes of the book.
It is both a theatre workshop for children and a creative frame for the practice of the English, Spanish or French language.
The workshop focuses on the element of play, as the source of theatre creation, and through playing, aims to trigger the children's imagination and creativity and attract their attention to "The Little Prince" essential concepts of love, friendship, generosity and responsibility.
It aspires to help the children develop the principles of personal expression and learning within a group.
The workshop ends up in a presentation (public or private) by the children, which is accompanied by accordion music.
The workshop is addressed to children between 8-18 years old and it can be conducted in English, Spanish or French. It requires 3-hour meetings and depending on the number of children, it can take place in 1-5 meetings.